Your UT Health Source for Continuous Coronavirus Updates
Read about university measures, updates and resources related to the coronavirus outbreak on this dedicated webpage.
Presidential Awards honor exemplary faculty and staff
Linked by what President William L. Henrich, M.D., MACP, called a common "desire to contribute in a unique and meaningful way for the benefit of others," 17 individuals and one team were honored with Presidential Awards from UT Health San Antonio. Learn more about the winners and watch a video featuring the honorees.
Get to know: Dr. Allen Anderson
What do a champion poultry judge and a renowned cardiologist have in common? They are both Dr. Allen Anderson.
This year, in recognition of doctors' day, March 30, we have developed a website that features a message from the dean and various profiles of some of our physicians.
The site will also host social media posts from students, faculty and staff. Dean Hromas is sending out thank you notes to each physician and we are providing chocolate for physician break rooms.
Save the date on March 30th to acknowledge and recognize your doctors' on LinkedIn, Facebook, twitter or instagram.
Please send a quick message of thanks to your favorite UT Health San Antonio physician on any social media platform by using the hashtag #UTHealthSADocsRock and tagging @UTHealthSA.
As an added incentive to participate, the department with the most likes or shares on March 30 can win breakfast tacos for their group.
Wear Your Green on 3/17
Join the fun on St. Patrick's Day - Tuesday, March 17.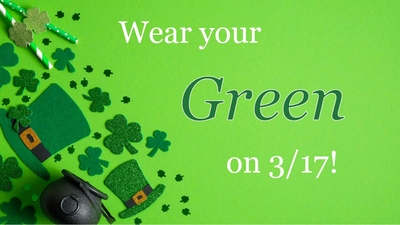 Our directors of practice operations have given the green light for some St. Patrick's Day fun! On Tuesday, March 17, all staff are allowed to wear a green shirt with their scrub bottoms.
Guidelines:
- No obscene words, gestures, or symbols.
- No large brand names or logos.
- If you have any questions, please speak with your practice manager*.
*If an employee's shirt is deemed inappropriate for the workplace, they will be asked to change with vacation leave used to make up their time.