How wait time impacts patient experience
Patients, as consumers, are taking a more active role in choosing their healthcare provider and are using patient survey data more than ever in determining where they will seek care. One key metric that affects patient experience is wait time, and even more importantly, the communication behind the wait time. It is no surprise that wait time continues to be mentioned in our patient survey data.


The difference between UT Health San Antonio and our competition is our care team, and our ability to effectively communicate. Patients expect communication to be delivered in a way they understand and in a way that makes them feel we are respectful of their time and feelings.


Our patient surveys, sent by Press Ganey, include four questions that are related to wait time:
How many minutes did you wait after your scheduled appointment time before you were called to an exam room?

How many minutes did you wait in the exam room before you were seen by a provider?

Please rate us on the degree to which you were informed about any delays.

Please rate us on the wait time in clinic from arriving to leaving.
Using AIDET, a Studer Group communication framework that helps to decrease patient anxiety and can increase patient compliance and clinical outcomes, we are better able to provide the communication that will support our efforts in providing exceptional experiences, for every patient, every time!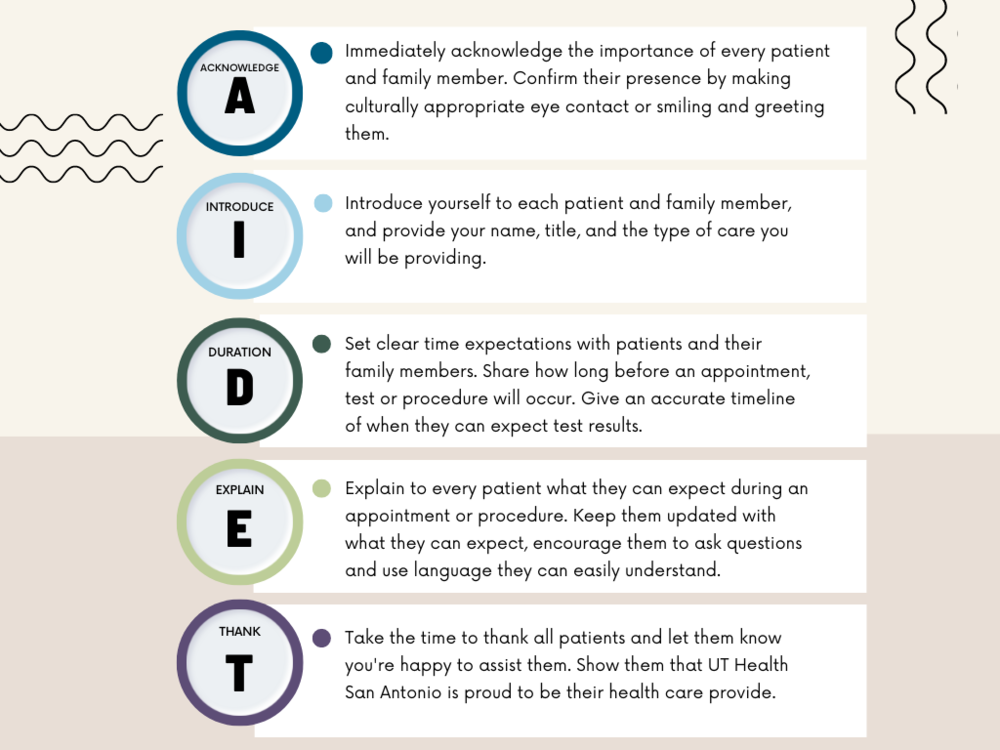 UT Health Connect is an e-newsletter for our frontline providers and staff who Make Lives Better.