What to know about monkeypox: June 2022 update
Since May 14, 2022, clusters of monkeypox have been reported in several countries that don't normally have monkeypox, including the United States. As of June 7th, the global tally was 1088 cases in 29 countries with the highest numbers being identified in the United Kingdom, Spain, and Portugal. In the United States, the CDC has identified 35 monkeypox cases in 15 states and the numbers are expected to rise.
On June 7, 2022, the Texas Department of State Health Services confirmed a single case of monkeypox infection in a Dallas County resident with recent international travel. This patient is isolated at home and DSHS is investigating a few people who may have been exposed in Dallas.
So far, there have not been any deaths associated with this outbreak and the cases have been mild. The cases have largely been traced to clusters of young men who have sex with men but anyone who has been in close contact with someone who has monkeypox is at potential risk. Noteworthy for this outbreak, several infected cases have presented with a rash on genitalia or in the perigenital region.
Recommendations:
If a provider sees a patient with fever, lymphadenopathy, and rash, monkeypox should be considered.
A patient suspected to have monkeypox should be placed in a single person room; special air handling is not required unless intubation, extubation, or aerosol-generating procedures are planned. Health care personnel entering the room should wear a gown, gloves, eye protection, and an N95 respirator.
Please notify UT Health San Antonio Infection Prevention by calling 210-450-0743 if a patient with suspected monkeypox infection is identified so appropriate coordination with the city's health department can occur in timely fashion.
If providers have additional questions after contacting Infection Prevention, they can email monkeypox@uthscsa.edu.
For more details, please see below and refer to the CDC Situation summary on the 2022 Monkeypox outbreak:
U.S. Monkeypox 2022: Situation Summary | Monkeypox | Poxvirus | CDC
What is Monkeypox?
Monkeypox virus is a species of Orthopoxvirus that also includes variola virus (smallpox), vaccine virus (virus used in the smallpox vaccine), and cowpox virus. It was first discovered in 1958 in outbreaks in monkey colonies and is endemic to several Central and West African countries. It has been considered a less common zoonosis and has not been generally believed to be easily transmitted from person-to-person. It can be transmitted through large respiratory droplets or by direct contact with bodily fluids or skin lesions from an infected person or animal.
Historically, the first outbreak in the western hemisphere actually occurred in the United States in 2003. There were 47 confirmed or probable cases and all of the infected were linked to contact with pet prairie dogs. The origin was traced to an exotic pet store where imported African rodents spread to prairie dogs. As a result, regulations on animal importation and prohibition of sales of pet prairie dogs were enacted.
How does monkeypox infection present clinically?
Monkeypox has symptoms similar to smallpox but milder. A person infected with monkeypox virus will generally start with fever, headache, muscle aches, and swollen lymph nodes. About 1-3 days after fevers, they will develop a rash that classically begins on the face and then spreads to the body, including palms and soles. Skin lesions typically evolve at the same time, unlike varicella (chickenpox) which typically has different crops of lesions at different stages of development. Monkeypox lesions generally begin as macules. Macules become papules, which progress into vesicles, which become pustules that eventually scab over. This overall process usually takes 2-4 week. Overall, this is usually a milder illness and the case fatality is estimated at 1-11%. A person with monkeypox is considered contagious until the skin lesions have crusted.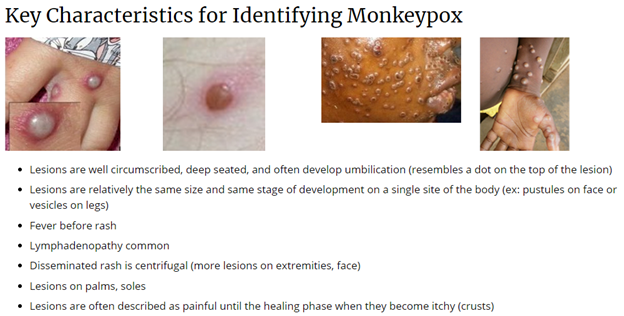 References:
Infection Control: Healthcare Settings | Monkeypox | Poxvirus | CDC
HAN Archive - 00466 | Health Alert Network (HAN) (cdc.gov)
Officials confirm 226 monkeypox cases in 21 countries | CIDRAP (umn.edu)
Signs and Symptoms | Monkeypox | Poxvirus | CDC
https://www.cdc.gov/poxvirus/monkeypox/clinicians/clinical-recognition.html
UT Health Connect is an e-newsletter for our frontline providers and staff who Make Lives Better.