Did you know? Your patients are rating the time they spend with you
See the survey questions your patients receive and learn how their answers impact our work.
Patient experience is defined by the Beryl Institute as, "the sum of all interactions shaped by an organization's culture, that influence patient perceptions across the continuum of care." UT Health San Antonio adopted this concept in 2016 and it is what drives our culture and the experience we provide to our patients. UT Health San Antonio receives hundreds of surveys from our patients every day. The insights they provide help us find ways to improve our practice and help us measure our success in providing an exceptional patient experience, every time.
UT Health San Antonio's patient experience goal for every location and every provider is for our patients to rate us as 95.7% or above for Likelihood to Recommend, which would place us in the 80th percentile of similar organizations nationally. Our current score for Likelihood to Recommend is 94.2%.
Your patients can complete a survey every 90 days after having an appointment at any of our locations. Surveys are sent by SMS text or email, which is why it is important to always verify your patient's mobile phone number and email address.
How are surveys facilitated and what do they ask?
Surveys are sent out and collected by a company called Press Ganey, who is the industry leader in patient experience surveys.
Here is an example of the questions your patients are answering regarding the care and experience they receive. Using a Likert scale, patients rate each question between 1 and 5 and can also type in personal comments for each question.
Access

Ease of scheduling your appointment
Ease of contacting us

Moving through your visit

Degree to which you were informed about delays
Wait time in clinic from arriving to leaving

Nurse/assistant

How well the nurse or assistant listened to you
The concern the nurse or assistant showed for your problem

Care provider

The concern the care provider showed for your questions or worries
The explanation the care provider gave you about your problem or condition
The care provider's efforts to include you in decisions about your care
The care provider's discussion of any proposed treatment
Likelihood of recommending this care provider to others

Personal issues

Our concern for your privacy
How well the staff protected your safety

Overall assessment

How well the staff worked together to care for you
Likelihood of recommending our practice to others
Their answers to these questions provide valuable insight about our patient's perspective. Results are used to identify best practices, celebrate successes as well as identify areas for improvement.
Survey scores and comments are available and can be shared to your clinic daily, weekly and monthly so we all will know what our patients are feeling and what they need.
There are three key driver questions that lead a patient rating our clinics as a "5" in the "likely to recommend" domain:
The concern the care provider showed for your questions or worries
The care provider's efforts to include you in decisions about your care
How well the staff worked together to care for you
Why do our surveys matter?
Patient surveys give us insight on the future growth of our organization. The likelihood of recommending our practice to others is what's called a "net promoter question." How your patients rate us on that question is an indicator of growth for UT Health San Antonio. If a patient is likely to recommend us, this means they will return for other visits and they will share their experiences and recommend us to their friends and family. Our organizational goal is for patients to rate us an average of 95.7% or higher for this particular question.
Our goals and priorities
Our priority is to provide an exceptional experience for every patient, every time. And, we understand that providing exceptional experiences for you, our frontline providers and staff, results in an exceptional experience for our patients. This does not mean "satisfying" every patient's request. Providing an exceptional experience also means communicating, explaining, and providing options.
Our goal is to understand our patients needs and provide solutions. When they come to see us, they may be at their worst, so we need to be at our best. It's important to understand our patients' needs and provide solutions. As Maya Angelou said, "a patient may forget what we said or what we did, but they will never forget how we made them feel."
Your patients' surveys impact improvements we're making in clinical workflows which ultimately leads to better health outcomes for our patients, and an overall culture of success at UT Health San Antonio.
Questions?
Your patient experience champions and leaders are here to help. Should you have any questions regarding the program, JoAnn Rios or Mary Salazar, DNP are always happy to help.
What to know about monkeypox: June 2022 update
In the United States, the CDC has identified 35 monkeypox cases in 15 states, including a single case of monkeypox infection in a Dallas County resident with recent international travel. With case numbers expected to rise, here are key characteristics for identifying monkeypox in patients and recommendations for handling cases within a clinical setting.
Since May 14, 2022, clusters of monkeypox have been reported in several countries that don't normally have monkeypox, including the United States. As of June 7th, the global tally was 1088 cases in 29 countries with the highest numbers being identified in the United Kingdom, Spain, and Portugal. In the United States, the CDC has identified 35 monkeypox cases in 15 states and the numbers are expected to rise.
On June 7, 2022, the Texas Department of State Health Services confirmed a single case of monkeypox infection in a Dallas County resident with recent international travel. This patient is isolated at home and DSHS is investigating a few people who may have been exposed in Dallas.
So far, there have not been any deaths associated with this outbreak and the cases have been mild. The cases have largely been traced to clusters of young men who have sex with men but anyone who has been in close contact with someone who has monkeypox is at potential risk. Noteworthy for this outbreak, several infected cases have presented with a rash on genitalia or in the perigenital region.
Recommendations:
If a provider sees a patient with fever, lymphadenopathy, and rash, monkeypox should be considered.
A patient suspected to have monkeypox should be placed in a single person room; special air handling is not required unless intubation, extubation, or aerosol-generating procedures are planned. Health care personnel entering the room should wear a gown, gloves, eye protection, and an N95 respirator.
Please notify UT Health San Antonio Infection Prevention by calling 210-450-0743 if a patient with suspected monkeypox infection is identified so appropriate coordination with the city's health department can occur in timely fashion.
If providers have additional questions after contacting Infection Prevention, they can email monkeypox@uthscsa.edu.
For more details, please see below and refer to the CDC Situation summary on the 2022 Monkeypox outbreak:
U.S. Monkeypox 2022: Situation Summary | Monkeypox | Poxvirus | CDC
What is Monkeypox?
Monkeypox virus is a species of Orthopoxvirus that also includes variola virus (smallpox), vaccine virus (virus used in the smallpox vaccine), and cowpox virus. It was first discovered in 1958 in outbreaks in monkey colonies and is endemic to several Central and West African countries. It has been considered a less common zoonosis and has not been generally believed to be easily transmitted from person-to-person. It can be transmitted through large respiratory droplets or by direct contact with bodily fluids or skin lesions from an infected person or animal.
Historically, the first outbreak in the western hemisphere actually occurred in the United States in 2003. There were 47 confirmed or probable cases and all of the infected were linked to contact with pet prairie dogs. The origin was traced to an exotic pet store where imported African rodents spread to prairie dogs. As a result, regulations on animal importation and prohibition of sales of pet prairie dogs were enacted.
How does monkeypox infection present clinically?
Monkeypox has symptoms similar to smallpox but milder. A person infected with monkeypox virus will generally start with fever, headache, muscle aches, and swollen lymph nodes. About 1-3 days after fevers, they will develop a rash that classically begins on the face and then spreads to the body, including palms and soles. Skin lesions typically evolve at the same time, unlike varicella (chickenpox) which typically has different crops of lesions at different stages of development. Monkeypox lesions generally begin as macules. Macules become papules, which progress into vesicles, which become pustules that eventually scab over. This overall process usually takes 2-4 week. Overall, this is usually a milder illness and the case fatality is estimated at 1-11%. A person with monkeypox is considered contagious until the skin lesions have crusted.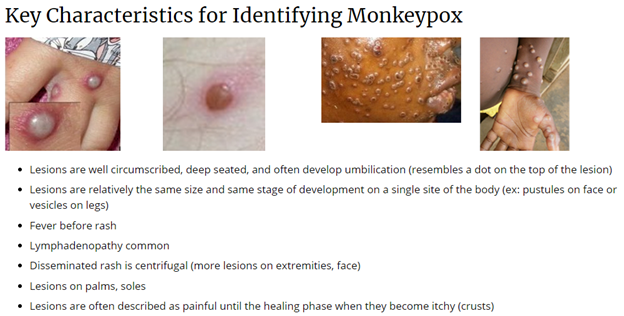 References:
Infection Control: Healthcare Settings | Monkeypox | Poxvirus | CDC
HAN Archive - 00466 | Health Alert Network (HAN) (cdc.gov)
Officials confirm 226 monkeypox cases in 21 countries | CIDRAP (umn.edu)
Signs and Symptoms | Monkeypox | Poxvirus | CDC
https://www.cdc.gov/poxvirus/monkeypox/clinicians/clinical-recognition.html
"No MyChart for me, thanks!" How to overcome common patient objections to MyChart
Here are the top four reasons some patients first say "No" to MyChart, along with examples of how you can respond to help them understand the benefits of MyChart.
At UT Health Physicians, MyChart is the preferred method of communication between patients and their care teams and it's up to all employees to improve patient activation rates. We know that MyChart provides our patients access to their health information online, anytime, anywhere and is critical for improving patient/care team communication, but we may still encounter objections from patients who don't see the benefits.
Wondering how to improve understanding given common objections? Use these responses.
Top 4 MyChart Objections:
I don't have a computer or smartphone.

Respond with: "Ok, I completely understand. Do you have a loved one who might have a device? We'd be happy to work with both of you to get you set up and comfortable."

I hate technology.

Respond with: "I understand, it can be frustrating and sometimes complicated. But I think you'll find MyChart surprisingly easy to use, activation is fast and easy. Do you have a device? I'd be happy to work with you to get it set up and you feeling comfortable."

I don't have time for this.

Respond with: "I understand. I can send you an instant activation link to sign up – via text or email. Which would you prefer? I'll also send you the link to our website where you'll find a video to help you. If you have questions, please contact us."

I prefer to speak with my doctor versus receive messages.

Respond with: "I understand, but I would like you to know that MyChart can be used to do many different things, including request appointments, view test/lab results, exchange messages with your provider, and have video visits. It is not intended to replace office visits with your provider, but it does provide the most efficient way for us to communicate. Knowing all of this, would you be willing to reconsider? I can help you get set up."
Fiscal year 2022 performance review process has begun
The fiscal year 2022 performance review process launched June 6, 2022, to evaluate performance for staff employees. Employees can find helpful step-by-step instructions in the UT Health Performs Employee User Guide on the Performance Alignment website. Recorded UT Health Performs training sessions are also available on the site.
Paid Time Off in excess of 80 hours expires Aug. 31
As part of the Comprehensive Leave Program, paid time off (PTO) hours are now front loaded for employees to use at the beginning of the fiscal year or on the start date for new hires. PTO balances up to 80 hours automatically transfer into the next fiscal year, but don't forget that any balances over 80 hours expire at the end of the fiscal year on Aug. 31, 2022. Please work with your supervisor to use your hours before they expire.
Tips to use the Percipio intelligent learning platform
Getting to know the homepage can help make the most of your time using Percipio. Here's an overview of the main features:
Find relevant content quickly using the search bar.
Keep track of what you need to do in the My Assignments section.
Pick up where you left off in the Resume Learning section.
See content you've set aside within your Playlist.
Explore recommended content based on the interests you selected after logging in for the first time.
You can also filter content depending on whether you want to watch, read, listen, or practice.
Use the Percipio Quick Start Guide to try out Percipio and start your learning journey today. Login using your UT Health San Antonio Single Sign-On credentials.
Reminder: Take the Staff Employee Engagement Survey by June 13
UT Health San Antonio is partnering with Gallup, a nationally recognized research organization, to conduct an Employee Engagement Survey of our staff employees to measure and positively impact employee engagement. The survey only takes 7-15 minutes to complete, and all responses are completely confidential. Staff employees hired as of April 1, 2022 received an email on May 16 with a link to the survey and are encouraged to participate!
June 25 (Register by June 22)